I have been working with these shotguns for about 6 years now. This is my opinion of these shotguns and things I have learned from the experience of working on them.

Here is the low down on the Norinco 982 & H&R NEF Pardner Pump:

The Pardner Pump & the Norinco 982 Pump are the same shotgun. The PP has a different style receiver and a brass bead sight. Most of the Remington 870 accessories will fit these shotguns with no modifying needed. Most 870 parts will fit also: receiver stud, Fore end assembly, trigger group, mag tube caps, safety, ejector, extractor, firing pin. I hear the parts for the Pardner Pump are shipped to the US from China and assembled at the H&R NEF Manufacturing facility. I don't know if it is true.
Just like the Norinco 982 shotguns the Pardner Pump shotguns are very well made that is why Remington-Marlin-H&R (same company) put their name on them and back them with their excellent warranty. I own both and have a lot of experience with them and they will hold up to anything that you throw at them. I have about 3000 to 4000 rounds through my 982 over 5 years and have never had a problem with it. It will feed all of the cheap ammo that some shotguns will choke on, the WalMart Value packs.
The Norinco 982 shotguns have been imported into the US for 10 years now with tens of thousands sold. They are made in China and get a bad rap because of it. Most always from the ones who have never owned one and or never would. You hardly ever see anyone on the gun forums that post they are having problems with one. You hardly ever see that many used ones for sale. That means one thing people are happy with them. There was a good review on them in the Guns & Ammo magazine July 2000 issue. They gave it 3 stars out of 4 and said that they had to be the best deal going on a Tactical shotgun. There has been a few improvements since 2000. These shotguns don't have refined look to them like a new 870. They have more of a rugged Military tactical shotgun appearance to them. That is what Norinco does best is manufacture military weapons.
Norinco has improved the 870 design as a tactical shotgun. It is whole lot of shotgun for the money.
* The Barrel locking lug is in a better location as a tactical shotgun. Being higher up it is a stronger setup. There is no need for a mag tube clamp with a 3.5" tube extension because it is shorter. Also plenty of room to put a rail mount for a flashlight or sling mount.
* Better shell lifter design - no need for a 870 flexi tab
* Thick Hardened high carbon steel receiver
* Metal trigger guard
* Parkerized finish
* Machined extractor
* 982 has a excellent set of ghost ring sights that would cost almost as much as the shotgun if you had to buy a set after market.
The 982 ghost ring sight assembly:

I would replace the slot screws that hold the GRS assembly with socket Allen head screws size: Metric M4 x 0.7mm
I would also replace the slot head elevation set screw with a Allen head set screw, size: Metric M4 X 0.7mm
The slot screws are hard to tighten firm without stripping them. I have had them to loosen under recoil and the aperture has slid off before. If you lose the GR aperture there are no replacements for it. I don't like slot screws and change them whenever possible. It is a good idea to use loctite made for small screws on the screws whether you decide to change them or not. The replacement screws are a common size and available at most hardware stores for about 40 cent each.
Here are pictures of the rear GR sight for anyone who like to see it. They are made of all quality steel and as you can see, very good quality machining. The slot screw in the middle behind the ghost ring aperture is your elevation set screw. The one on the left side is the windage screw. I haven't had any problems out of it.
Adding a Mag tube extension:

To add a mag tube extension to these shotguns the mag tube dimples have to be removed for it to work. The best way to remove them is to drill them out with a 3/16" to 1/4" drill bit. Then clean the holes up with a Dremel or a piece of sandpaper wrapped around a dowel and chuck it in a drill. Stuff a rag down the mag tube to keep any metal savings out of the action. The metal drills easy so take your time, use a little oil and don't force it. The holes won't be seen because the barrel locking lug will cover them. When the follower slides in and out of the mag tube freely and you are done.
The standard Norinco 982 with 7+1 tube extension.
My 5 year old Norinco 982 with 870 accessories and a 7+1 tube ext
Vang 870 Oversize Safety
Brownells 870 stainless follower
Arms Tech 870 stock adapter
Laserlyte Tr-Rail mount
My custom 7+1 tube extension that I make for these shotguns
Tapco SAW grip storage for two shells
M4 CAR STOCK
CAA stock saddle provides a good cheek weld
SOG recoil pad
The shotgun has been coated with a non rust ceramic finish

Here is my custom Pardner Protector with some 870 accessories. No modifying had to be be done to any of them. This is one of my cool looking fun shotguns and it handles very well.
Vang 870 dome safety
Arms Tech 870 stock adapter
Hogue 870 fore end
King Armory Breacher Muzzle Brake - The shotgun patterns very well with this brake and muzzle flash is greatly diminished.
John Masen 870 heat shield
My 7+1 Mag tube ext which will also fit the 870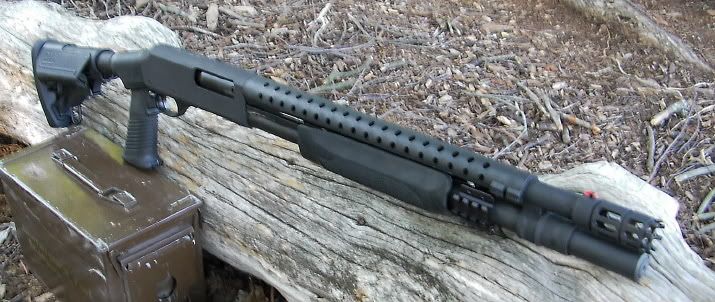 GC