Mine is about 15 years old, very rugged, reliable and reasonably accurate. I can hold minute of center mass at 100 yds. with factory sights. The only changes I made were the stock and compensator.
Mini-14s have a bad reputation for poor accuracy, but mine's consistently performed well. A couple of years ago Ruger re-tooled their production lines and the new ones are reported to be more accurate, compared to AR-15's.
This one is my "
throw it in the back of the SUV, or car when I want to have a rifle handy
" gun. I tend to take this instead of the AR, probably for sentimental reasons cuz the AR is pretty new.
If you get one, get as many quality 20-30 round magazines as you can in case the AWB comes back at us. Ruger's selling 20 round mags again, and there are some quality after market mags as well. But, beware of cheap gun show mags. Most are crap.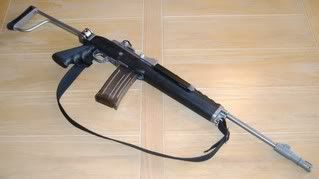 __________________
Sui Juris
Cogito, ergo armatum sum
NRA Life Member / SAF Member
Retired Police Detective '71-'01 / LEOSA Certified
Naval Aviation Veteran '65-'69
United States Constitution (c) 1791
All Rights Reserved