Ok, will start with the good here.

Went to the range yesterday to test out my new loads for 30-06 and .35 Rem. (actually went Mon. but that range was closed on monday, so i just fished instead) Well, what i learned with the testing of the two calibers is that i am too old and blind to be using iron sights anymore. @ 50 yds when i looked down my sights at a red 6" circle, all i could see was the white of the surrounding paper. Hit the paper decent enough but cant really make a judgement call on wether or not the rounds group well or not due to my handicap. MUST get a scope mounted back on the 06. The .35s, well, i will just have to wait until i go to the range that was closed on Mon. to shoot at a 30yd range, as i will NOT scope the one .35...might eventually drill and tap the other for bases and rings.

Ran 50 of my .45 acp reloads thru the 1911. The S/A ate them without a hitch, all hit/grouped well. Would have shot more...but...I had a jackass in the stall next to me who thought his only reason for being there was to PISS ME OFF! Some people seem to think they OWN the public ranges and are selfish loathsome individuals at best.

Shot 4 cylinders out of the 686 .357. 2 in double action, 2 single action. I still hit a LOT better shooting double action, but the SA is coming along nicely. Would have worked with the revolver more....see above rant about selfish loathsome people.

I dont think this is terrible results....12 rounds .357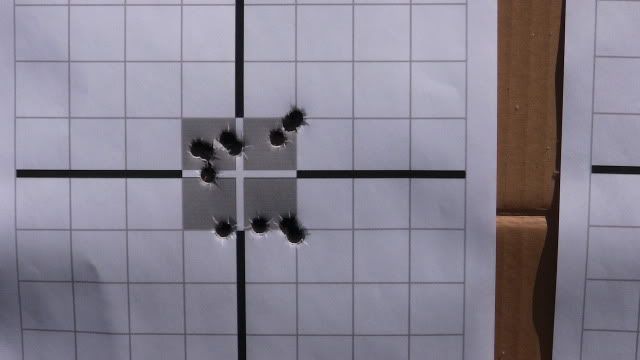 A cool "shot" (or so i thought) i have dubbed "the eyes of death"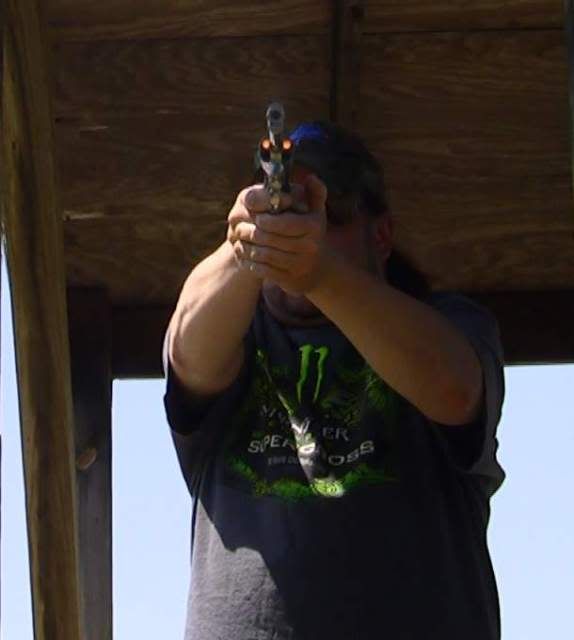 I also worked with the PSA AR....i am really getting to dislike this gun. In doing my research folks said "Dont get a DPMS, a PSA i much better!!" I am begining to wonder at that advice now. Now, for the price, i ended up with a PSA for less than i would have gotten a comparable DPMS from the LGS. That being typed, this damn PSA is a jam-o-matic!!

I have used it at the range 4 times, its been torn down and cleaned 3 times. Once, i cleaned and lightly oiled everything. The last time i did as the factory instructions said and left it dry, except for a light oiling in the barrel. (per factory instructions; do not oil bolt or carrier assembly unless using in wet environment)

On average it will fail to eject 1 of every 10 rounds....yesterday 3 FTF's per 30 round mag. (The one time i ran it dirty it was every other or every second round!!)

For the record i am at about 750 rounds PMC brass cased FMJ rounds downrange.

Not being one to just dog on anything and everything, i like to put positive spins on most things when possible. What i DO like about this PSA is that when it ejects the brass, (properly) it tends to land them all in a nice neat little pile. Makes for policing brass a cinch! The other thing i LOVE about this gun is its accuracy. Now if i could just get the FTF issue worked out i would really like this gun!

30 rds, 100 yds, Palmetto State Armory M-4gery, I'LL TAKE IT(this kind of grouping that is)