Well, today was a sad day. I was put in the position of having to drop my tree stands, load them up and bring them home. Once again, thru no fault of my own, i was tossed off a property i deer hunted on. A whole 3 weeks before the opening of archery season.
Not to allow the day to be a total bummer, the wife came with to help drop and drag stands out, a road trip, lunch and some range time.
All things considered it was a productive day.
A little background: The wife, 20+ years ago was
NOT
a fan of firearms. What little experience she had with them was decidedly bad. Flash forward 20+ years and a TON of patient work on my part and we have what you are about to see.
I am proud but know we still have a way to go!

Wifes target, 7 rds, 10 yds, right hand. (Shes left hand dominant but cant get the damn thing to cycle shooting left hand)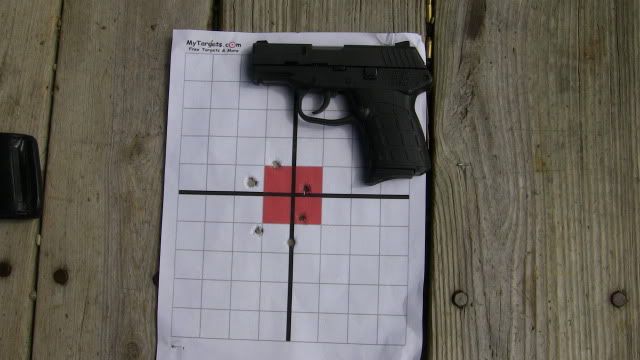 I took the new (to me) Ruger Model 44 and did some experimentation.
5 rds, Factory 240 gr. JFN...
5 rds, 240 gr. JHP, sitting on 19 gr 2400 out of my press...
5 rds, 240 gr. JHP sitting on 18.5 gr. 2400...
I would have to conclude the ole Ruger 44 likes to eat 240 gr. JHP on top of 18.5 gr. of 2400. But thats just my uneducated opinion.