Using Hornady's new LeveRevolution ammo, the humble .30-30 can be turned into an honest 300 yard rifle, adequate for most N. American game. I own a 336, my first serious caliber [bigger than .22 LR] rifle. I've owned it over 20 years and have often thought of the age-old question;
"If I could only have one rifle?"
I'd probably choose the Marlin. Not a bad choice for home defense, as well.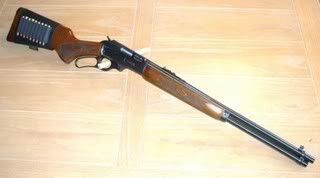 I haven't put a scope on mine, it just seems wrong to have one mounted on a lever gun. But that's just me being old school.
I am planning on upgrading the sights tho, to fiber optix because of my aging eyes.
__________________
Sui Juris
Cogito, ergo armatum sum
NRA Life Member / SAF Member
Retired Police Detective '71-'01 / LEOSA Certified
Naval Aviation Veteran '65-'69
United States Constitution (c) 1791
All Rights Reserved