Quote:
Originally Posted by
celticpride2133
So what do you think about this rifle? I heard the magazines have had some issues, has this been resolved? Accuracy? Trigger? I would keep it stock so no 1000 dollar upgrades!
Note that half the responses said get a 1022, even tho the OP has said NO CHANGES...
Ok, the early 597's had a huge issues with lousy magazines...which later got resolved,
but by that time word was out and it killed a lot of potential sales...Remmy has since revamped the mags a
and come out with a WIDE variety of OEM Stocks from the factory!!
that being said, I've got a 1976 Remington Nylon 66 that'll probably outshoot any 597 made thusfar...
not to mention being more reliable
The last respondent (mrt8110) was the most correct, although if one wanted to stay with Box-style magazines,
the Marlin to look at would be the 795...which is out of the box more precise than an out of the box 1022...
some rascals with a Lead Sled took the time to prove that, repeatedly...to most folks content over at another forum...
In fact, I'd challenge ANY 1022 owner to do the same thing...go buy an inexpensive Marlin 795 and test it themselves!!
I think you'd be surprised at the results!!!
Not to mention that pimping the 795, IS less expensive than the 1022...
This one currently has less than $250 in it...including the cost of the 795 itself!! (On sale for $99 and an additional $25 rebate!!)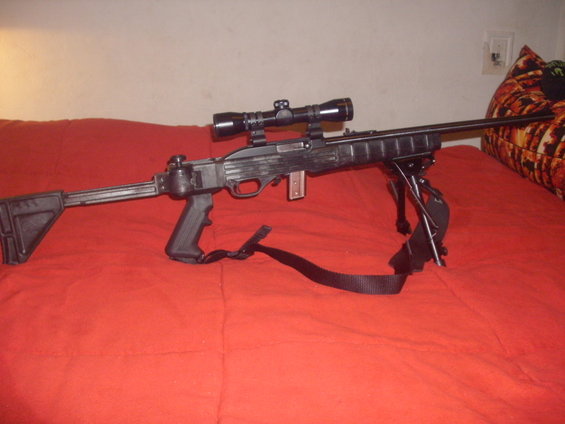 Ramline Folding Stock $25 from Numrich
Simmons Black Diamond scope @ Wally for $30
Weaver see-thru rings @ Wally for $10
Razor Sling $10 @ Wally
Shooter's Ridge Bipod @ Wally for $20
Marlin adjustable Rear Target Sight from Numrich for $10
Three Champion 25-rd Magazines for $20 each
Tactical M-4 bag from a pawnshop for $10
And a leftover Brownell's Acraglass kit for the pillar bedding
So after the minor, inexpensive upgrades, it tortures 10-times more expensive rifles at the range
Wanna see a CZ owner cry?? Beat him with a Marlin 795!!!