Quote:
Originally Posted by
Trez
I gotta stick up for the Remington Golden bulk pack, I always see them being trashed, but there what I shoot regularly and I never have any more problems with them than other bulk pack .22's. I find them to be more accurate and have less drop than the Federal bulk .22's.... Ive never once had a squib??..
Your just going to have to find what you like...
I dont think you can go wrong with either the 10/22 or Marlin... I had both the 60 and 75? (I think).. Why hasnt anybody suggested the mag-fed model, just the tube-fed Model 60?
I havent really compared the two though, I sold my Marlin .22's and really dont shoot my 10/22 anymore... I just love shooting my Winchester M63 and Weatherby MK.XXII so much and their still very accurate even with that "third rate" Remington bulk ammo...
You are lucky...and I'd bet if you had a Chronograph, you'd really see some wild variations in FPS coming out of yer muzzles with RGB's.
Most folks suggest the 60 because they've sold 13 Million since 1960.
Ruger's only sold 7.5 million 1022's since 1963.
I'm still trying to figure out why more accessory MFR's are making Ruger stuff and not Marlin stuff...
as it is not logical to skip a larger customer base (Marlin) for one half the size (Ruger).
The Remmy 597 is so far behind the leaders it ain't even funny...
DIP is making a fortune by having the Marlin Fan Base all to itself for triggers, trigger guards, bolt handles, and a few other nifty things...
Boyd's Riflestocks has over the last two years expanded from ONE Laminate stock to Six styles...they found the Marlin 60/795 Honey Hole
Of course, really, the only things left that we Marlinites need are Drum mags & synthetic folding stocks like Ramline used to make.
Like this Ramline 70 stock I put on my 2009 Marlin 795...which Ramline stopped building because of Bill Clinton's AWB law.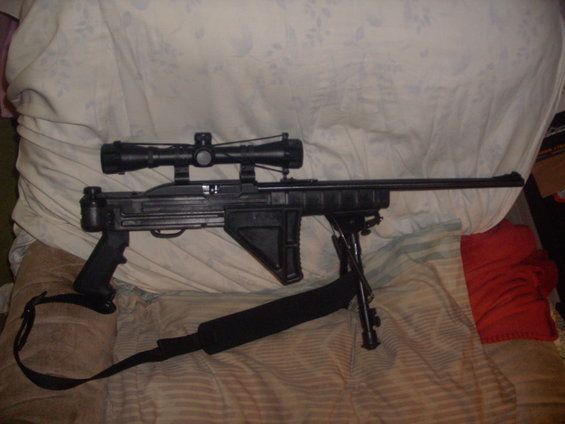 If Ramline was smart, they'd start making them again...
I'd really love to see an M1-Carbine Paratrooper style stock for the Marlin 795 & 60...
or heck, a Tactical Synthetic Paratrooper-style stock...make it cost $99 or less and the Marlin nuts will beat a path to your door!!