Hello. The first handgun I purchased as an adult was an Star Model B in the early '70's. If memory serves, the tariff was about $75.00 or so. I foolishly let that one get away but toward the end of the following decade I was able to buy another Model B from the last production run announced by the manufacturer, Star Escheverria, in Eibar, Spain. I saw the advertisement in
The American Rifleman
and I'm glad that I did. (By that time, the price was about three times what I'd paid for the first one!)
I had my second one customized at Williamson Precision Gunsmithing in Hurst, Texas and have never regretted it, even though some folks will say spending more on custom work than the pistol itself cost was foolish. Others may have doubts about the quality of a
"Spanish pistol"
, but I have
consistently
been pleased with the quality of the Star firearms I've purchased and used over the years. They may indeed have a few more toolmarks in non-critical areas than some more costly handguns, but the things seem to work and in my opinion provide more quality than their price may indicate. There are features of these older Star pistols that I don't care for but overall, I've been very pleased with the several Star handguns I've used and owned over the years.
Realizing that I'd neglected this pistol for a couple of years, I took it out for a range session recently. A total of 200 rounds of factory ammunition was used. It consisted of Federal 115-gr. JHP, Winchester USA 115-gr. FMJ, Corbon 115-gr. DPX +P, some old PMC 115-gr. Starfire JHP's I had (Besides, "Starfire" somehow sounded appropriate), Fiocchi 124-gr.
Extrema
and Federal's sadly discontinued 124-gr. Nyclad hollow point.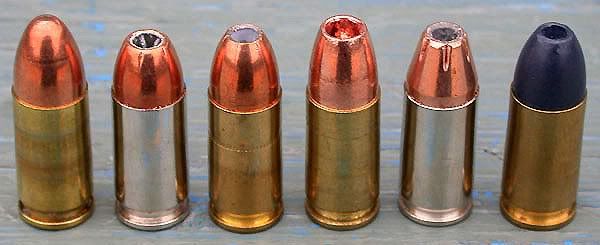 Right to left: Winchester USA 115-gr. FMJ, PMC 115-gr. Starfire, Federal 115-gr. JHP, Corbon 115-gr. DPX +P, Fiocchi 124-gr. Extrema using the Hornady XTP bullet, and Federal 124-gr. Nyclad hollow point.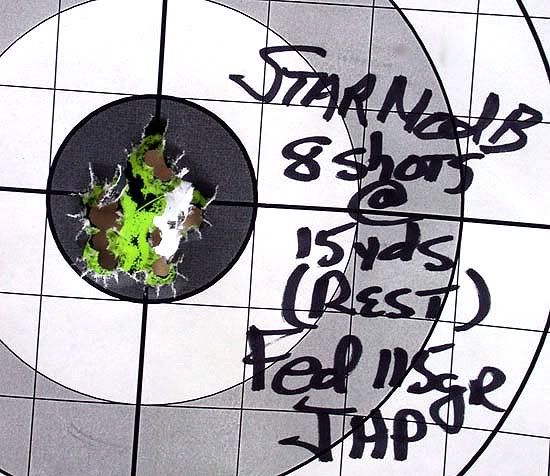 I fired this group using a two-hand hold with my wrists atop two sandbags. I was sitting at a shooting bench and there was no effort at speed. Some will say, "What does that have to do with how well you shoot a pistol?" My answer is that my reason for doing it is to try and get an idea of the mechanical accuracy capability of the handgun I'm shooting. I believe that the Star Model B is plenty capable of exceeding whatever I might ask of it with respect to accuracy...especially when shooting without a rest.
There were no malfunctions of any kind and the slide never failed to lock rearward after the last shot was fired.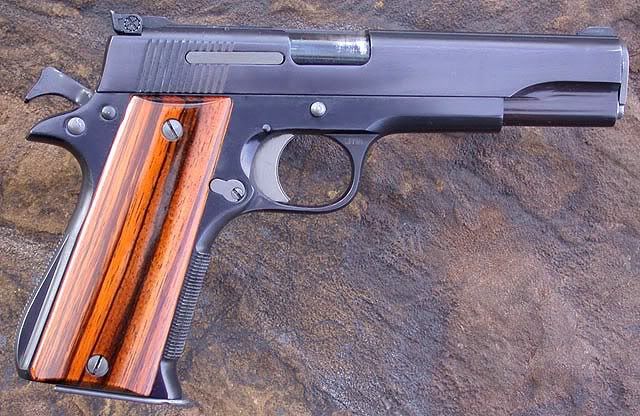 I've been shooting this custom Star Model B around 20 years now with no complaints. This one has had Millett adjustable revolver sights installed along with a serrated front ramp sight. The front grip strap has been checkered and the slide and frame reblued. The magazine disconnect is gone but neither trigger work nor accurizing has been done.
For those interested in more on the Star Model B, here's link to a more detailed report:
Shooting a Customized 9mm Star Model B
Best and good shooting.